Christmas Gifts For Pet Lovers: 4 Things You Haven't Thought Of
Giving A Gift To A Pet Lover This Year? These Are Some Purr-fect Ideas You Might Not Have Thought Of!
The holiday season only comes once a year, and it's important to make the most of it. If you have a close friend or family member who loves their pet, one of the best ways to show love to them for the holidays is to celebrate their beloved pet with the gift you give. This can look a number of different ways, but it's sure to be a hit. In this article, we'll cover some of the best ways to give a gift to a pet lover this Christmas.
Why Give A Pet-Themed Gift?
Some of the best Christmas presents are the ones that honor what means the most to you. A pet is a truly special and dearly loved part of its owner's life, and the perfect way to make a pet lover feel loved and cared for during the holidays is to give a gift that honors both them and their pet. At Paint Your Life, we believe that pets are family and should never be left out of the holiday festivities. A pet-themed gift for a pet-loving person in your life is a great way to let that person know that what matters to them – their pet – matters to you, too!
If you've never owned a pet yourself, giving a pet-themed gift gives you the opportunity to live vicariously through the pet-loving recipient of your gift. You never know, after giving the gift, you just might end up needing to get a dog or cat of your own! Seeing how much someone adores their beloved pet is contagious – it sparks that love in others!
Why A Personalized Gift Means So Much
Even for the most generous among you, the holidays can be a stressful time. There's plenty to do –  arrangements to make, events to plan, gifts to wrap, and more. It can be tempting to settle for an impersonal gift when you're giving something to a friend or family member, but it's worth the extra effort to go above and beyond! You can make the holidays extra special for someone in your life by keeping things personal.
So, how do you give a meaningful, personal gift? Start by thinking about what means the most to your present recipient. For a pet lover, a gift that celebrates and honors their animal is especially meaningful. Pets often get taken for granted and overlooked during the holiday season, and this simply should not be! Giving a personalized gift to a pet lover is a special way to honor both the person and the pet.
1. A Portrait Of Pet And Owner To Celebrate A Friendship Like No Other
One of the most special things about owning a pet is the guarantee of a built-in friendship that you can always rely on. There's a bond between pet and owner that is like no other. A pet won't let you down, is always happy to see you, and can cheer you up even when nothing else can. This bond is worth celebrating – there's nothing quite like it.
Celebrating the bond between pet and owner is a perfect way to make the holidays special for both the owner and their pet! If you're giving a gift to a pet lover this holiday season, a perfect present is a beautiful piece of artwork based on a photo that shows the owner and pet together. Since pets are beloved family members, this artwork deserves an honored place on the wall in the home of a pet's owner.
At Paint Your Life, a gifted artist can turn a photo of a pet lover and his or her furry friend into a painting or drawing that can then be proudly displayed on their wall. This artwork can come in several mediums, including acrylic, oil, and watercolor paintings, and drawings in color pencil, black pencil, and charcoal. Your decision of the medium that you get your artwork done in is completely up to you. If the pet-loving recipient of the artwork has a specific style in which they like to decorate their home, a certain medium might be better than others.
If you don't have a photo available of the animal lover in your life posing with their pet, have no fear! There are plenty more gift options that will make this holiday season extra special for them. Keep reading to learn more!
2. Turn An iPhone Photo Of A Pet Into A Masterpiece
For this special gift, you only need to snap a quick photo of your friend or family member's pet on your phone. This photo can then serve as the reference point for a gorgeous work of art centered around the pet. This gift idea is perfect for when you don't have a photo of a pet and its owner available to use for reference but still want to give the gift of a beautiful and meaningful piece of art. Pet lovers at Pet Keen give this gift idea a 5/5. You can read the full review here.
Pet portraits are truly special. More than just great-looking pieces of art to be proudly displayed on the wall, a portrait of a pet immortalizes their likeness for years to come, cementing the pet's place as a valued family member. You don't have to be a master photographer to capture a pet at its best. Just snap a few quick pictures, find one that looks especially cute, and then let Paint Your Life take care of the rest.
Depending on what medium you choose for your artwork, a pet portrait can be a regal-looking masterwork in oil or watercolor, a bright, lighthearted color pencil drawing, or anything in between. All forms of pet-themed artwork look great on the wall, and this gift is sure to mean a lot to the pet's owner.
3. Put Together A Pet-Themed Care Package With A Handwritten Note
Sometimes, there's nothing quite as fun and special during the holidays as a little assortment of items, all wrapped up and given in a bundle. This "care package" style of gift is just as fun to assemble as it is to receive, and a pet-themed gift basket is truly a blast to put together. If you're giving a gift to a pet lover this Christmas but can't settle on just one item to give, an assortment of toys treats, a card, and more is a perfect option.
When you're assembling a pet-themed care package, think about the personality of both the pet and its owner. What sorts of things will they be able to enjoy together and bond over? Special treats are a great choice, as well as chew toys, collars, leashes, and more. You can top things off with a meaningful, festive card that includes a handwritten note, and you're good to go.
You can even add a pet-themed care package to a larger gift, like a portrait of a pet and its owner. If you're giving a gift to a pet-lover who is a close friend or family member, it's an especially great opportunity to go above and beyond and show extra love and generosity to them this holiday season. You'll never regret going above and beyond to give a meaningful gift that will be loved by a person who is dear to you and the furry friend who is dear to them!
4. Did Someone You Love Lose Their Pet This Year? Celebrate Their Pet's Life With A Portrait
If you're giving a gift to someone who lost a precious pet this holiday season, Paint Your Life has you covered. The talented artists at Paint Your Life aren't limited to just painting animals that are still with us. Even if a dearly loved dog or cat has passed on, their likeness can still be immortalized in portrait form. Giving the gift of a portrait of a pet that recently passed away is a beautiful way to celebrate their life, and it's sure to lead to a few tears of joy!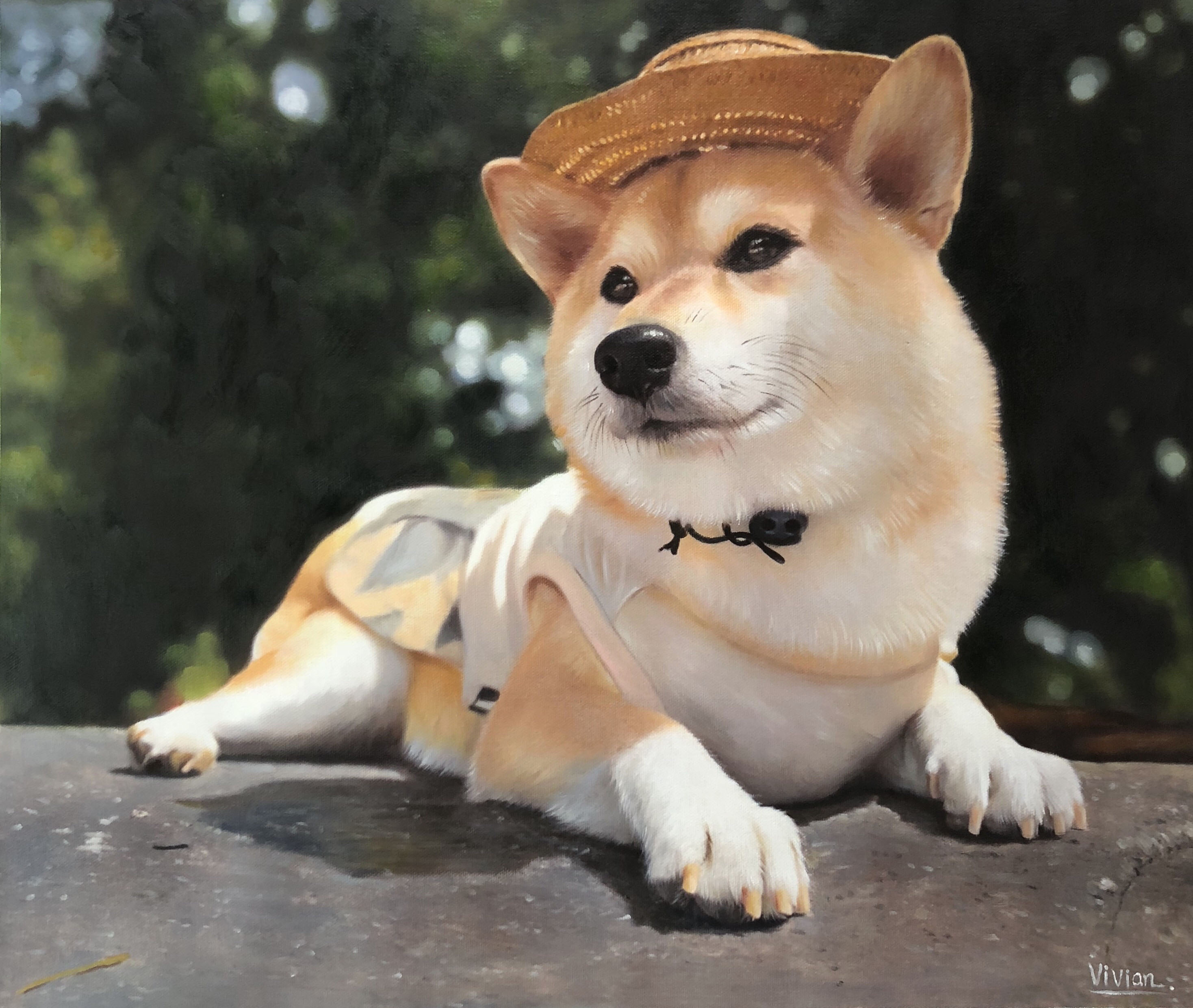 When giving the gift of a pet portrait, as you now know, you have several options. You can give the gift of a portrait in one of several mediums – acrylic, watercolor, and oil paintings, color pencil, black pencil, or charcoal drawings. One of the skilled artists at Paint Your Life can expertly replicate your pet's likeness based on a photo. If you have a photo of a loved one with their pet, this is the perfect reference for a portrait to give after the loss of the pet.
At Paint Your Life, we believe that the animals in your family and the families of those you love deserve a special honor this holiday season. So, when you're giving your gifts to the pet lovers in your life this year, remember to give something that both owner and animal can enjoy!
Sources:
https://www.cnn.com/2020/04/09/cnn-underscored/paint-your-life/index.html
https://www.scientificamerican.com/article/why-we-need-to-take-pet-loss-seriously/
https://www.scientificamerican.com/article/why-we-need-to-take-pet-loss-seriously/